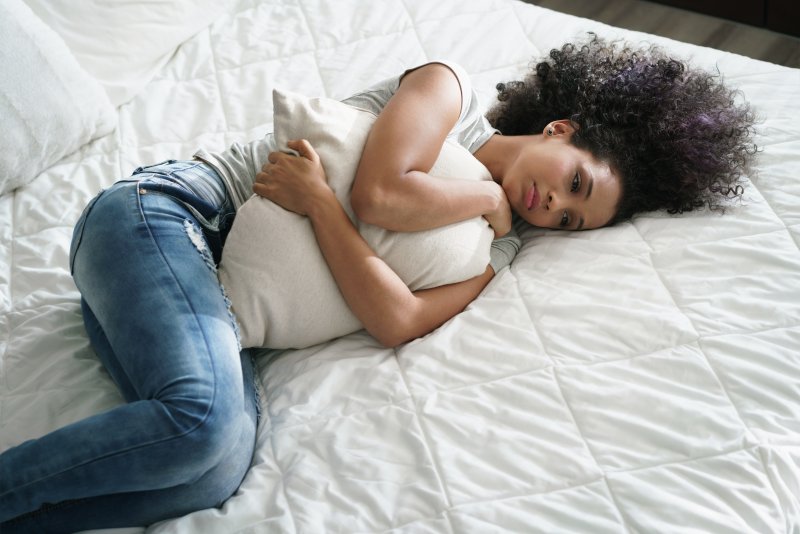 According to a study published in a European journal in 2012, over half of all patients diagnosed with a sleep disorder also suffer from depression or anxiety in some form. Moreover, anxiety and sleep apnea both share a number of symptoms, including insomnia and being in a constant state of agitation. Could one of these conditions lead to the other? As a matter of fact, their relationship could actually be considered more of a vicious cycle, and in this post, you'll see what their connection is and why they both need to be treated.
The Link Between Sleep Apnea and Anxiety
There is a clear correlation between sleep and mood; when you're not getting enough quality rest, your mental state suffers, and you might find yourself growing more anxious as a result. This is especially true if you have sleep apnea. Whenever your breathing is interrupted while you're asleep, your brain panics and jolts you awake, stopping you from reaching the deepest restorative stages of sleep. Without a full night's rest, your body will be less able to deal with stress, which can lead to anxiety developing or becoming more severe.
Furthermore, anxiety and sleep apnea both cause your heart rate and blood pressure levels to rise. Eventually, you could end up suffering any number of health problems. Suffering from both conditions at once will dramatically increase the risk of panic attacks and heart problems as they feed into each other.
As both conditions will only become more severe if they go untreated, it's important for you to protect your health by finding a solution for sleep apnea and anxiety right away.
Does Treating Sleep Apnea Help with Anxiety?
While using CPAP therapy and oral appliance therapy to treat sleep apnea might not directly address anxiety as well, they do have an impact. Once your sleep apnea is under control, you'll be able to stay asleep throughout the night again, undisturbed by breathing interruptions. As such, you'll no longer be waking up multiple times during the night, allowing your body to reach all the necessary stages of sleep needed to maintain a healthy mind. Decreased mental stress means less anxiety.
Helping your body relax and destress before bed can go a long way towards lessening the impact of both sleep apnea and anxiety. You can do this by stretching, avoiding the blue light emitted by electronic screens, or reading a book just before bed.
Of course, you'll need to talk to your doctor to find a solution that truly addresses both sleep apnea in Columbus and anxiety. Be sure to talk to a sleep specialist as soon as you can. The earlier you treat these disorders, the easier it will be to maintain your mental and physical health.
About the Author
Dr. Eric Buck is always passionate about helping his patients improve their lives by getting the rest they need. He is a member of the American Academy of Dental Sleep Medicine and is well versed in using oral appliance therapy to help people overcome their sleep apnea and get the rest they need to avoid anxiety. To schedule a consultation at his Dublin practice, The Columbus Sleep Center, visit his website or call (614) 956-9305.