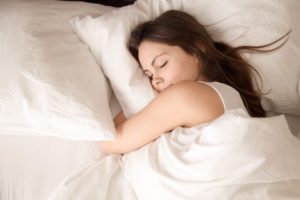 Even after two cups of coffee, your eyelids feel like they weigh 10 pounds. As you walk toward the café in your office for your third cup, you find yourself struggling to focus and as tired as ever. Although you've been chugging along for the past couple of months, a few more days of this and your tank will truly be running on empty.
Whether it is insomnia, nerves, or sleep apnea in Columbus, the inability to get restful, uninterrupted sleep can plague every area of your life. Fortunately, essential oils may be the solution you've been looking for! Read on for six types to try to help you sleep better.
Sandalwood
Sandalwood is an earthy fragrance that has been used for centuries for relaxation and anxiety relief. In fact, evidence points to people using it in ancient times! Today, researchers have found that the scent of sandalwood has sedative effects that reduce wakefulness.
Citrus
Citrus smells have powerful sleep-promoting properties for some; however, others find that it improves their alertness. Therefore, it is important to try out a few scents, like bergamot and lemon, before making it a nightly ritual. If you find that it makes you feel more alert than sleepy, opt for using it in the mornings instead!
Rose and Geranium
If you find the scent of florals to be calming and refreshing, then a combination of rose and geranium may be the mixture for you! On their own, they have been found to reduce stress and relieve anxiety, so together they are a powerful combination.
Jasmine
For some, the floral notes alone are not enough. If you enjoy the fresh scent of rose but need something a bit sweeter and more potent, then a jasmine essential oil is the way to go. In addition to its beautiful scent, jasmine has sleep-promoting capabilities that cut down on restless sleep and improve daytime alertness.
Lavender
Perhaps one of the most popular essential oils, lavender is known for its natural anxiety-relief effects. In fact, a study published by the U.S. National Library of Medicine found that lavender can improve sleep quality and elevate daytime alertness of patients with insomnia. So, if you find your mind buzzing at the end of the day, then try a few drops of soothing lavender to promote relaxation and welcome sleep.
Vanilla
The scent of vanilla is a sweet aroma that many people find pleasant. While it is often associated with delicious treats, like ice cream and cookies, the smell has been found to reduce hyperactivity and calm the nervous system. Therefore, if you find the smell of freshly baked goodies calming, then you may find a vanilla essential oil to be relaxing and soothing.
Playing a passive role in your life is no way to live. Fortunately, decades of research have found that natural essential oils are a powerful, effective, relatively inexpensive remedy that can result in a restful night's sleep!
About the Author
After earning his undergraduate degree from Miami University, Dr. Eric Buck received his Doctor of Dental Surgery at The Ohio State University College of Dentistry. Today, he regularly teaches at Spear Dental Education and is a member of multiple prestigious organizations, including the American Academy of Dental Sleep Medicine. If you would like Dr. Buck to provide you with long-term relief from sleepless nights and untreated sleep apnea, don't hesitate to visit his website or give him a call at 614-956-9305.