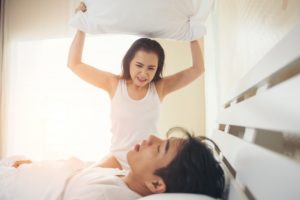 Over 22 million Americans have some form of sleep apnea. Unfortunately, many people never have the problem diagnosed. That leaves them feeling drowsy during the day and unable to focus, but the issues don't stop there. Untreated, sleep apnea in Columbus can possibly be life-threatening. That's why being tested is so important. How much does it cost, though? Read on to get the answer.
What is Sleep Testing?
Before receiving treatment for sleep apnea, you need a proper diagnosis. Therefore, you won't waste time and effort. In some cases, testing involves going to a sleep center to have your sleep cycle monitored. However, many dentists can provide you with a home sleep testing monitor that can measure your heart rate, blood oxygen levels, airflow and general breathing patterns. If there are abnormalities discovered, a treatment solution can be prescribed.
How Much Does Sleep Testing Cost?
The cost of sleep testing varies. It partly depends on the type of study being performed. If you visit a sleep center, the price can range from $500 to $3,000. Typically, you can expect to save money when taking the in-home sleep test route, with prices ranging from $300 to $600.
Will Dental Insurance Cover the Cost?
The cost of a sleep study can be significantly lower if you have health insurance. The ideal situation is for the provider of the study (whether in-center or at home) to be in-network with your carrier, as some insurance companies won't cover out-of-network treatments at all. However, if you stay in-network, your carrier may provide 100% coverage.
You should take note that different insurance companies have different policies. They will sometimes deny in-center sleep testing in favor of a home test as a cost-saving measure. So you can be as prepared as possible, it's a good idea to check with your insurance company as well as the provider beforehand.
Why Sleep Testing is Worthwhile
When sleep apnea goes undiagnosed, it can contribute to compromised liver, heart, pancreas and brain health. Thus, even if you have to contribute a little extra out-of-pocket, undergoing a sleep test is well worth it. By taking action and receiving the necessary treatment, you can breathe properly while you sleep, enjoy improved overall health and heightened functionality.
About the Author
A graduate of The Ohio State University College of Dentistry, Dr. Eric Buck is an expert in treating sleep apnea. To ensure that he can continue providing the absolute best in care, he maintains professional affiliation with the American Academy of Dental Sleep Medicine. Dr. Buck helps patients rest better at The Columbus Sleep Center, and he can be reached for more information through his website.