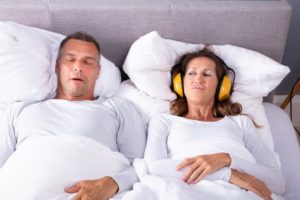 Statistics show that over 22 million Americans now have some form of sleep apnea in Columbus, the most common form of which is obstructive sleep apnea (OSA). A sleep breathing disorder, the condition can cause hundreds of sleep interruptions throughout the night. It stems from the airway becoming partially or completely blocked, which inhibits breathing and causes the brain to send a distress signal that breaks sleep. It's been discovered that several peripheral conditions can encourage OSA. Are increased stress and anxiety possible contributors? Read on to find out.
The Anatomy of Sleep
One of the main prerequisites for getting effective sleep is to be as relaxed as possible. Thus, elevated stress and anxiety levels can be counterproductive. Evidence of this can be found in a 2012 report by PubMed that shows a correlation between depression and anxiety diagnoses and sleep disorders. In a separate piece published in The New York Times Health Guide, it was reported that sleep apnea may "intensify" symptoms of post traumatic stress disorder (PTSD).
Ways to Reduce Anxiety and Stress Levels
If you've been dealing with heightened anxiety or stress, thankfully, there are some ways to mitigate the problem. Here are some helpful tips you can easily implement:
Meditate – There is no specific method that you have to learn for meditating. It simply involves being quiet and still. The activity, when done consistently, can have a lasting, calming effect.
Seek Counseling – If your anxiety or stress starts to become chronic and leads to depression, then it may be best to seek counseling from a trained professional.
New Exercise Regimen – When you exercise on a regular basis, it contributes to the healthy release of endorphins, dopamine and other key hormones, that have relaxing and anti-inflammatory properties that also help you rest better at night.
Take a Relaxing Bath Before Bed – A helpful way to encourage your mind and body to relax before bed is to take a soothing and calming bath. To further boost the benefits, you can add lavender essential oil, which helps to stimulate the natural production of the nighttime hormone, melatonin.
Power-off Your Electronic Devices – At least 30 minutes before you retire for bed, you should discontinue the usage of any electronic devices. This will help you unwind and prepare to release the stresses of the day as you drift to sleep.
How Sleep Apnea Can be Treated
While all of the above strategies can help to encourage a better-night's sleep, it's still important to receive treatment for OSA. It starts by taking a quick online sleepiness quiz. If you're diagnosed with the condition, then a local sleep dentist can custom design an oral sleep appliance for you. The portable apparatus gently shifts your jaw forward while you sleep to prevent any stoppages in breathing. Therefore, you can get the valuable rest you need!
About the Author
A graduate of The Ohio State University College of Dentistry and member of the American Academy of Dental Sleep Medicine, Dr. Eric Buck specializes in treating OSA. He helps patients rest better at The Columbus Sleep Center, and he can be reached for more information through his website.