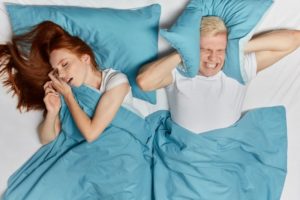 If it's not uncommon for you to awaken to a morning headache, then you're probably eager to discover the cause and a remedy. It could be a warning sign of sleep apnea in Columbus. Read on to learn about the condition, some of the other symptoms to be on the lookout for and how it can be treated.
What is Sleep Apnea?
For people dealing with sleep apnea, there can sometimes be hundreds of interruptions in their breathing while they rest. With each break, their brain triggers them to wake-up to restart their breathing, but the constant interruptions can lead to a series of problems.
One of the issues that can arise from untreated sleep apnea is hypertension, which can also open the door to a stroke, heart disease and cardiac arrest. To prevent these life-threatening occurrences, it's critical that you pay attention to any warning signs of sleep apnea.
Common Indicators of Sleep Apnea
One of the typical symptoms of sleep apnea is morning headaches. While the science behind why this happens is still inconclusive, researchers believe it's due to the low oxygen and high carbon dioxide levels that occur during the repetitive stoppages in breathing.
Here are some of the characteristics of sleep apnea-related headaches:
Resolve within four hours
Occur more than 15 times a month
Can be experienced on both sides of the head, having a pressing quality and not related to nausea, or light or sound sensitivity
There are yet other symptoms to be cognizant of.
The Other Warning Signs of Sleep Apnea
In addition to morning headaches, you should pay close attention to any mood swings, bouts of depression, inability to focus, loud snoring or throat soreness when you wake-up, as these could all be indicators of sleep apnea.
Ultimately, if you notice any of these signs, they shouldn't be ignored. The first step is to receive a proper diagnosis to eliminate any guessing. One way to go about this is to take an Epworth Sleepiness Scale assessment, which is a short, eight-question test. If it's determined that you have sleep apnea, then you can visit a local sleep dentist to receive the care you need.
How Sleep Apnea is Treated
The most common way of treating sleep apnea is with a CPAP machine, which can pose difficulty for some patients because of its size and the sound it makes when operating. Thankfully, there is another option: an oral sleep appliance. When you visit your sleep dentist, he or she will work with you to determine which type is best suited for you.
To enjoy a healthy and functional life, it's vital that you receive quality rest at night. By being proactive and receiving the treatment you need for sleep apnea, you can recover and be at your best!
About the Author
Dr. Eric Buck is a graduate of The Ohio State University College of Dentistry. He has additionally received advanced training in the treatment of sleep apnea, and he maintains professional affiliation with the American Academy of Dental Sleep Medicine. Dr. Buck helps his patients rest better at The Columbus Sleep Center, and he can be reached for more information through his website.